2022 IMP Awards - Nominees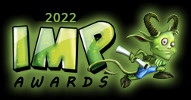 Finally, chosen from the winning posters from the teaser and genre categories:
Winner of Best Overall Movie Poster of 2022
Thanks for checking out our annual awards. Sorry for them being so late this year. Going to try to be back to announcing them in January next year... Whether you agreed with our picks or not, we hope you enjoyed checking them out!